ViVOpay 4500
The ViVOpay™ line of contactless payment systems are the best-selling contactless payment devices in the world. ViVOpay devices are used in movie theatres, fast food restaurants (QSR), casual dining establishments, convenience stores, petrol stations, grocery stores, buses, taxicabs, and vending machine locations, enabling a wide variety of businesses to accept contactless/NFC payments.
ViVOpay enables almost any point of sale (POS) and Electronic Cash Registers (ECR) systems with contactless payments with minimum changes and implementation costs. ViVOpay readers come in several different packages and configurations to fulfill the specific needs of each merchant segment: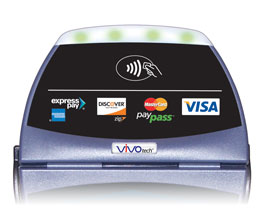 Countertop, Integrated, Vending, Drive Thru, OEM and more.
The ViVOpay 4500 contactless payment device provides additional processing power for advanced contactless applications. ViVOpay 4500 supports EMV-Based OneSmart® MasterCard PayPass™ and Visa Wave as well as MSD-based MasterCard® PayPass™, ExpressPay from American ExpressSM, Visa® contactless and Discover®.
Large memory, processing power and remote downloads assure merchants that the investment of today will support the developments in contactless payment of the future.
The ViVOpay 4500 adapts easily to a wide variety of existing Point of Sale (POS) terminals and Electronic Cash Register (ECR) systems providing complete integration with the merchant system and Check-out lane. With ViVOpay 4500 merchants with digital signature pads and customer or clerk-facing POS or ECRs systems will be able to start accepting contactless cards and key fobs; generating 20% larger ticket value and a 20% shift from cash and checks*.
ViVOpay 4500 enables most POS and ECR systems with contactless payments with full visual integration with existing POS and store layout.
The ViVOpay 4500 accepts payments in a wide variety of form factors or technologies such as key fobs, smart mobile phones, infrared devices or RF enabled payment cards. In addition, the ViVOpay 4500 has incorporated the benefits of both RFID and Near Field Communications (NFC) technologies providing the market with industry's most versatile contactless system on the market today.
Markets
Movie Theaters
Fast Food
Restaurants (QSR)
Casual Dining Establishments
Convenience Stores
Gas Stations
Grocery Stores
Buses
Taxicabs
Vending Machine Locations
Any location that needs a contactless payment system
Features
Additional Images
Spec Sheet
Additional Applications: Equipped with new powerful ARM processor for advanced contactless functionality.
Easy Integration: Adapts to POS and ECR systems providing for physical and functional integration.
Revenue Increase: Contactless payments generate ticket uplift and increased card usage.
Speed and Convenience: Rapid check-out time during peak hours.
Low Cost: Upgrading existing POS systems costs only a fraction of replacement for new contactless-enabled POS.
| | |
| --- | --- |
| | The small footprint (5" x 4.2" x 0.7") and flexible design of the ViVOpay 4500 was crafted to give merchants a variety of mounting options and provide for complete visual integration with POS and ECR systems as well as other implementations such as window mount for ticket sale booths or drive thru windows. |